Historical Las Vegas Downtown Casino Map
Last updated: May 15, 2007
This is a map of existing, former, and if there ever are any, future casino sites in downtown Las Vegas. This map is partially, but not exactly, to scale.
This map is basically a downtown version of the Historical Las Vegas Strip Casino Map. However, because of the long history of gambling in downtown Las Vegas and the layout, many casino names are kind of scrunched.
For the most part I'm trying to put the casino on the correct city block. Anything beyond that is gravy. When an existing casino has gone by previous incarnations on that site, the now defunct casino name is offset slightly from the existing one. For defunct casinos on a given site, those that are left justified were on the same site or had the same address.
For example, on the same block with the Golden Nugget, as best I can figure it, the California Club and Friendly Club occupied the same site (at different times), as did the 49'er Club and Fortune Club, and as did the Frontier Club, Nevada Club, and Lucky Casino. Over time these were all absorbed into what is now the Golden Nugget. Note, though, that the locations of the names of the casinos on this block don't accurately represent where they were located within the block.
Finally, not all casinos are listed. For example, Sassy Sally's is excluded, as is La Bayou and Mermaids. Basically, the minimum criterion for inclusion is that at one time the casino must have either had hotel rooms or table games. So, the Coin Castle qualifies, Sassy Sally's doesn't.
Key:

Black text labels streets.
Green text labels currently operating casinos.
Red text labels casinos no longer open for business .
Blue text labels casinos not yet open for business .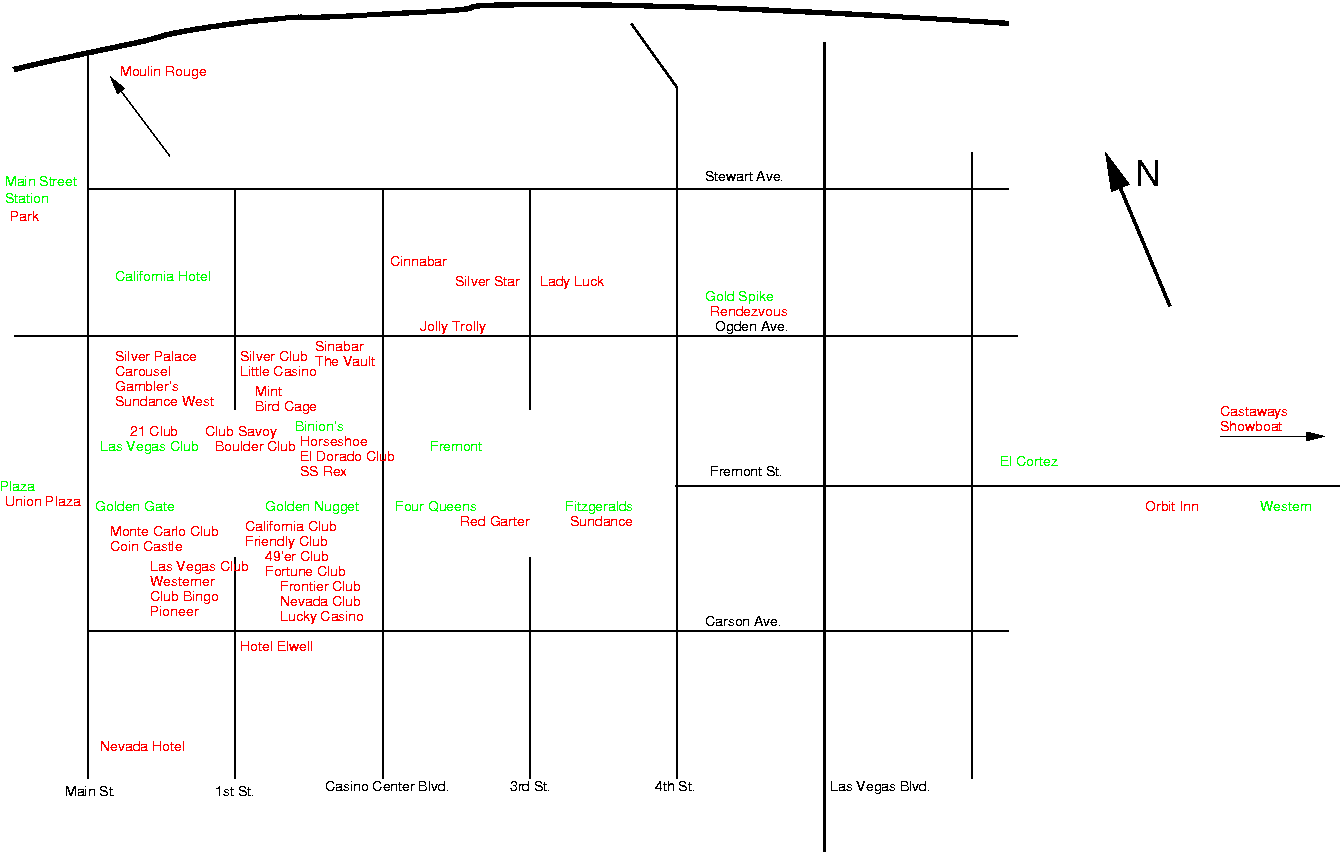 List of Downtown Las Vegas Casinos, including years of operation:
21 Club, 1930s
49'er Club, 1951--1952
Binion's, 2004--
Bird Cage, 1958--1959
Boulder Club, 1931--1960
California Club, 1946--1970
California Hotel, 1975--
Carousel, 1967--1974
Castaways, 2000--2004
Cinnabar, 1951--1959
Club Bingo, 1962--1983
Club Savoy, 1945--1957
Coin Castle, 1970--2000
El Cortez, 1941--
El Dorado Club, 1947--1951
Fitzgeralds, 1988--
Fortune Club, 1952--1955
Four Queens, 1964--
Fremont, 1956--
Friendly Club, 1978--1983
Frontier Club, 1935--1953
Gambler's, 1974--1976
Gold Spike, 1981--
Golden Gate, 1956--
Golden Nugget, 1946--
Horseshoe, 1951--2004
Hotel Elwell, 1951--1965
Jolly Trolly, 1977--1978,1981
Lady Luck, 1964--2006
Las Vegas Club, 1931--1949,1949--
Little Casino, 1953--1965
Lucky Casino, 1963--1967
Main Street Station, 1991-1992,1996--
Mint, 1961--1988
Monte Carlo Club, 1945--1955
Moulin Rouge, 1955--1959,1993--1996
Nevada Club, 1932--1953,1953--1969
Nevada Hotel, 1974--1988,1992--2004
Orbit Inn, 1964--1976,1976--1987
Park, 1987--1990
Pioneer, 1947--1956,1983--1995
Plaza, 1992--
Red Garter, 1972--1975
Rendezvous, 1977--1978
Showboat, 1954--2000
Silver Club, 1934--1956
Silver Palace, 1956,1958--1964
Sinabar, 1972,1974--1975
SS Rex, 1945--1946
Sundance, 1980--1988
Sundance West, 1976--1980
Union Plaza, 1971--1992
The Valut, 1974--1976
Western, 1965--
Westerner, 1950--1960
Recent updates:
May 15, 2007

I've seen a photograph of the downtown area near where the Pioneer was, and there appears to be a casino called the Lucky Strike, but I can't find any information on it. It may be what I have listed as the Lucky Club may actually be the Lucky Strike. Or it might be a small casino called the Lucky Nevada Club. Anyone know anything?

May 15, 2007

I found a reference that indicated that the Gold Spike closed (presumably briefly), in 1993. Anyone know anything about that?
Other related casino sites:
This page Copyright Nick Christenson, 2007, All Rights Reserved.