Historical Las Vegas Strip Casino Map
Last updated: May 12, 2007
This is a map of existing, former, and future casino sites on the Las Vegas Strip. This map is partially, but not exactly, to scale.
Key:

Black text labels streets.
Green text labels currently operating casinos.
Red text labels casinos no longer open for business.
Blue text labels casinos not yet open for business.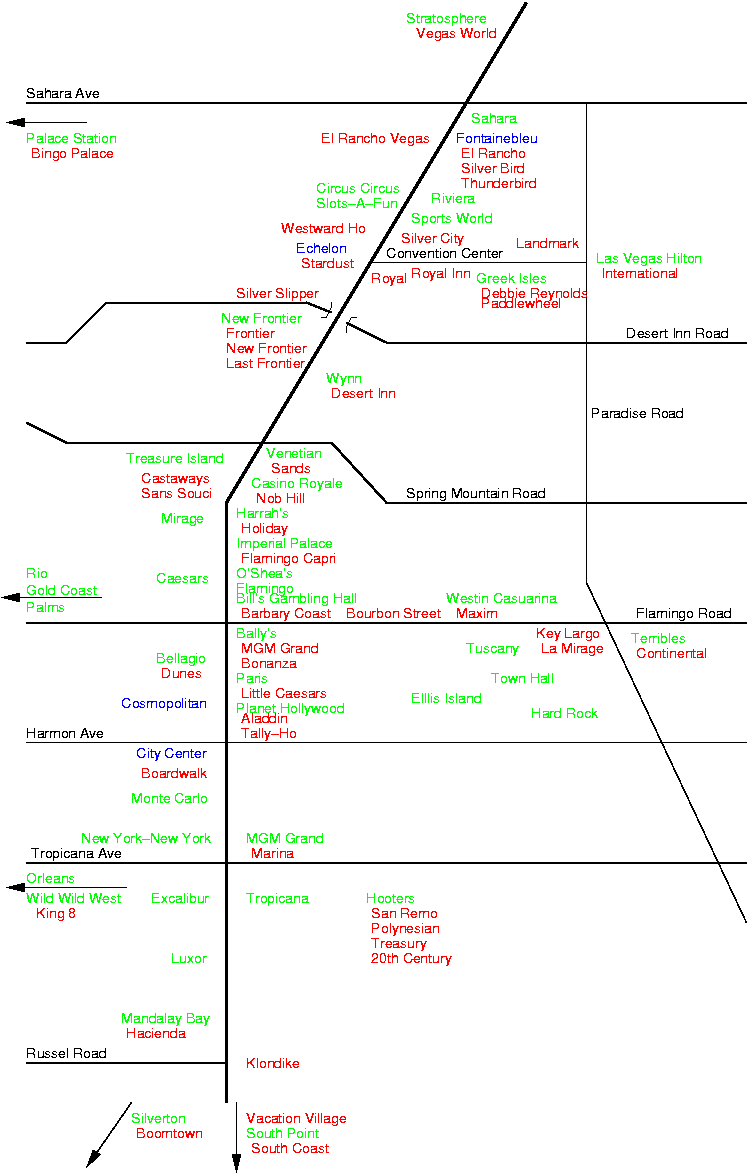 List of Las Vegas Strip Casinos, including years of operation:
20th Century, 1977--1978
Aladdin, 1966--1997, 2000--2007
Bally's, 1986--
Barbary Coast, 1978--2007
Boardwalk, 1977?--2006
Bonanza, 1967--1973
Bourbon Street, 1985--1996,1998--2005
Caesars Palace, 1966--
Casino Royale, 1992--
Castaways, 1963--1987
Circus Circus, 1968--
Continental, 1981--1997
Debbie Reynolds, 1993--1996
Desert Inn, 1950--2000
Dunes, 1955-1993
El Rancho, 1982--1992
El Rancho Vegas, 1941--1960
Ellis Island, 1988--
Excalibur, 1990--
Flamingo, 1946--
Flamingo Capri, 1958--1978
Fontainebleu, 2009?--
Frontier, 1967--1998
Gold Coast, 1986--
Greek Isles, 1996--
Hacienda, 1956--1996
Hard Rock, 1995--
Harrah's, 1992--
Holiday, 1973--1992
Hooters, 2006--
Imperial Palace, 1980--
International, 1969--1971
Key Largo, 1997--2005
King 8, 1974--1998
Klondike, 1982--1983,1996--2006
La Mirage, 1986--1989
Landmark, 1967--1990
Las Vegas Hilton, 1971--
Last Frontier, 1951--1956
Little Caesar's, 1970--1994
Luxor, 1993--
Marina, 1975--1990
Maxim, 1977--2001
MGM Grand, 1973--1986
MGM Grand, 1993--
Mirage, 1989--
Monte Carlo, 1996--
New Frontier, 1955--1967,1998--
New York--New York, 1997--
Nob Hill, 1979-1990
Orleans, 1996--
O'Shea's, 1989--
Paddlewheel, 1983--1991
Planet Hollywood, 2007--
Rio, 1989--
Riviera, 1955--
Royal, 1971--1988,1990-1997
Royal Inn, 1970--1979
Sahara, 1952--
San Remo, 1989--2006
Sands, 1952--1996
Sans Souci, 1955--1962
Silver Bird, 1976--1982
Silver City, 1975--1997or1999?
Silver Slipper, 1950-1988
Slots-A-Fun, 1973--
Sports World, 1997--
Stardust, 1958--2006
Stratosphere, 1996--
Tally-Ho, ?-1966
Thunderbird, 1948--1976
Town Hall, 1985--
Treasure Island, 1993--
Treasury, 1979--1982
Tropicana, 1957--
Vacation Village, 1990--2002
Vegas World, 1979--1995
Westin Casuarina, 2003--
Westward Ho, 1971--
Wynn Las Vegas, 2005--
Recent updates:
April 19, 2007

Looks like the Maxim project won't happen as the site was sold to MGM Mirage.

April 15, 2007

The Aladdin officially changes its name to Planet Hollywood. The grand reopening party will occur in late September, though.
Other related casino sites:
Notes:
In the mid-90s, a person known to the 'Net only as "Scruffy" had a wonderful historical map of the Las Vegas Strip that was one of the best Las Vegas resources in the early days of the Internet. Unfortunately, Scruffy's map has been offline for several years. Even though it was created from scratch, this map is very much inspired by his efforts, and he deserves much of the credit for this.
Some smaller casinos that do or used to exist have been intentionally omitted. Basically, if the casino didn't either have its own hotel rooms or table games, it's too small to receive notice here.
There are other casinos that probably deserve to be mentioned. Any suggestions for these casinos and their locations can be sent to npc@jetcafe.org.
This page Copyright Nick Christenson, 2007, All Rights Reserved.